March 10, 2008
When the Levee breaks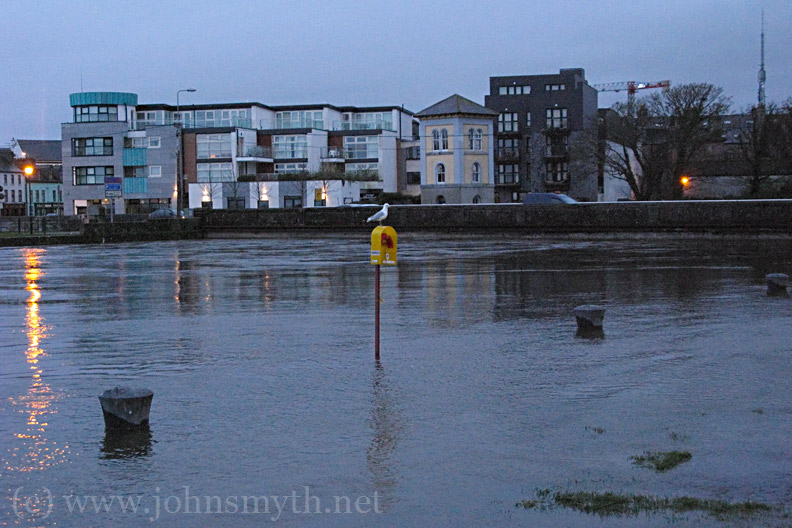 The Spanish Arch looked a bit post-apocalyptic this morning at around 6.50am. And by that, I mean post-apocalyptic in the "I Am Legend" / nobody about sense rather than the "Decline and Fall of the Roman Empire"/ bodies in the street effect that one sees during Race Week.
Met Eireann predicted storms and flooding over the weekend but we were spared most of it in Galway. Until this morning. A combination of a full tide, and a lot of floodwater coming from the Corrib meant that the sea began to slop over the quay wall at the Spanish Arch. The City Council clearly weren't expecting it either - normally, they fence off the edge of the quay during floods, but there was no sign of any council workers this morning. A few more pictures in the Spanish Arch gallery here, and a video of waves crashing against Silver Strand yesterday afternoon [I'm experimenting with short video clips since I got the G9 - listen to this one with the sound off - it's just wind noise].
UPDATE: March 12. It was much wilder last night. Along Salthill Promenade, a ferocious wind, accompanied by the odd shower of hail and sleet, kept most people off the Prom. But not everyone. I'd hoped to put together a montage of video clips of the storm but thanks to an unsavoury incident between Windows Vista and Adobe Premiere Elements, no editing was possible. It's not exactly Cloverfield, but this clip should give you an idea of what it was like (as a bonus, it shows me getting my comeuppance.
Posted by monasset at March 10, 2008 11:32 PM