March 09, 2008
Blown Away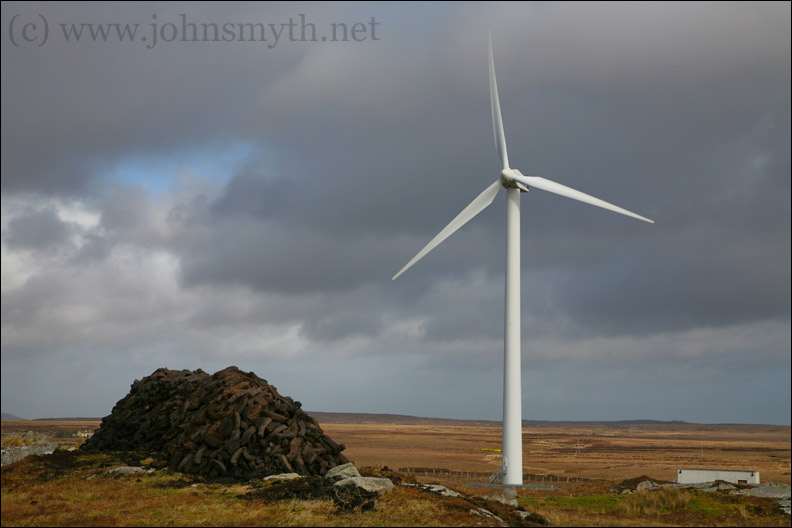 Last week, the Government announced a new sustainable energy plan which is aimed at implementing environmentally friendly policies and also developing 'green' industries in Ireland to take advantage of the Government's investment.
Probably the most recognisable sign of green energy in Ireland is the silhouette of a wind turbine - to be seen on many hills across the country. Wind energy attracts significant grant aid which is why there now so many wind farms across the country. They are not without their critics - from their visual impact on the countryside to the amount of energy expended to build the things in the first place. However, since we live in a country without huge reserves of fossil fuels, it would be a shame not to use the free energy blowing in from the sea [and I'm writing this as a gale is blowing across the country]
The wind turbine pictured above is one of five on a site overlooking Spiddal and Galway Bay. At the base of some of the turbines, turf is still cut. Whatever about the future of wind turbines, the future for hand-won turf looks bleak. Turf is still officially classified as a smokeless fuel in Ireland, as are peat briquettes. But the new set of turf-fuelled power stations built in the Midlands will probably be the last [their power output is small], and less and less people are harvesting turf every year [most new houses have oil-fired central heating and many of the new apartments and town-houses don't have a real fireplace]. As someone who spent many a childhood evening stuffing sods of turf into a Stanley Range, an Ireland without turf would seem strange. I don't miss having to cut it, though.
The wave energy company Wavebob also announced a new energy project with Vattenfall last week - I photographed their experimental wave-power generator almost 2 years ago.
Part of the Transitions image series.
Posted by monasset at March 9, 2008 11:08 PM