March 12, 2008
The New Irish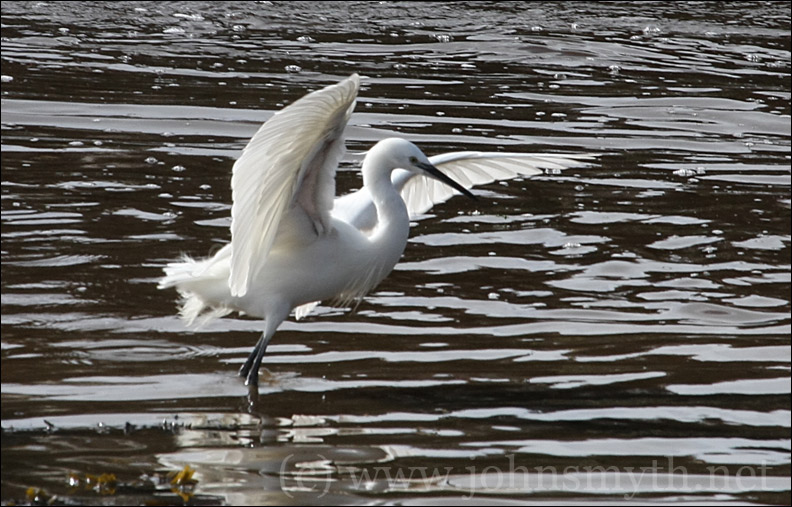 Camera=Canon 40D, lens = 100-400mm@400, speed=1/400 sec, aperture=5.6, ISO=400, Spot-metered.
Not all of the immigration to Ireland in recent years has been of the human kind. My copy of "The Shell guide to the Birds of Britain and Ireland" was published in the mid-eighties and lists the Little Egret as, at best, a summer vagrant. Not any more.
The Little Egret [egretta garzetta] is quite a bit smaller than the Grey Heron but they are both members of the same [heron] family. There's at least 3 Egrets feeding, and nesting, in Rusheen Bay [behind Silver Strand] right now in Galway. Who knows - if there is a little egret-on-egret action soon, we might have more by the summer. There's no shortage of food for seabirds and waders in Rusheen Bay, and on Saturday, the Egret (pictured above) was feeding constantly for the hour or so that I watched it.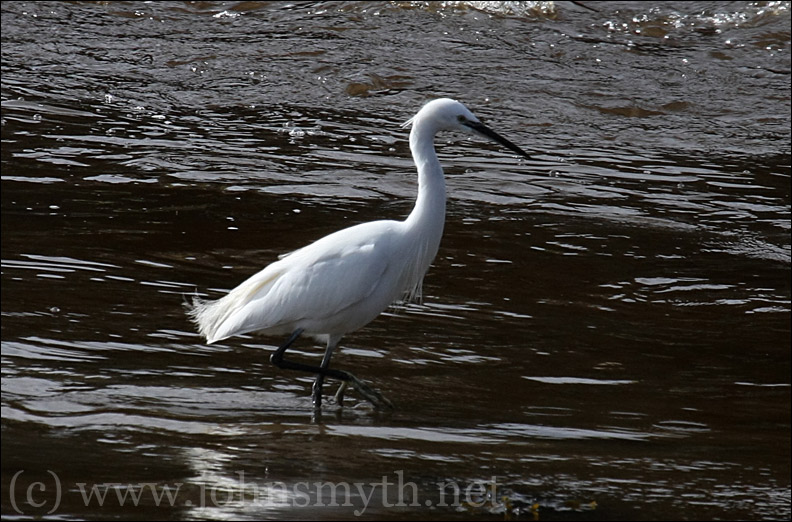 A while ago, there was a complaint about the surfers in Rusheen Bay - allegedly from a bird watcher. Well, I felt like doing some complaining myself after watching two dogs chase every single bird off the stretch of beach in front of the Small Wood [which is a Birdwatch reserve] while the owner blithely looked on. Of all the beach available from Salthill to Barna, why pick the one small spot reserved for bird-watching? Only in Ireland…
little, egret, low, tide, vagrant, white, heron, ireland, star, trail,long, barna, rusheen, bay, ireland, irishblogs, photoblogs, photography, photographs, pictures, galwayblogs, blog, monasset, north atlantic skyline, john smyth, Canon, 40D, march, 2008
Posted by monasset at March 12, 2008 06:36 PM