Face Value.....................................................................................Sunday 25th August 2002
It's only three months since the General election, and it looks like most of the Government's election promises have evaporated in the face of, well, reality. Not everyone took the candidates promises at face value...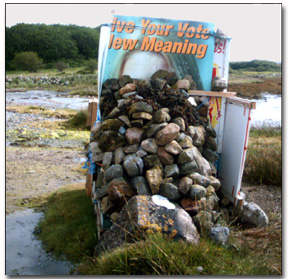 Now that's what I call a miracle....................................................Thursday 22nd August 2002
Last month on Achill Island, there was a sighting of the Virgin Mary. Yesterday, someone from the island won over 5 million Euro in the lottery. I wonder if the winner was a believer….
Parity of esteem
After the 1994 football World Cup in the USA, the Colombian striker Andres Escobar was murdered by gunmen in Medellin, ostensibly for scoring an own-goal which helped to knock out his own team from the competition.

Loyalists in Northern Ireland decided to do their bit for international football yesterday by issuing death threats against team captain Neil Lennon, who also has the temerity to be (a) a Roman Catholic and (b) a Glasgow Celtic player. Lennon has decided to retire from international football.

Loyalists have an established track record for targeting Catholic sportsmen, as this article about a GAA club in the Guardian shows.
It's not the only Columbian connection. While Loyalists are content to emulate Columbian gangsters, the IRA (the group that are supposed to be on cease-fire) have allegedly been busy in Colombia too, supposedly helping the Revolutionary Armed Forces of Colombia Peoples Army (FARC) to design bombs and mortars. Currently, three Irishmen are awaiting trial in Columbia, charged with assisting FARC. Richard Haas, US envoy to Northern Ireland stated that he believed that three IRA suspects detained in Colombia last month were "not just on their holidays".
Tuesday, August 13, 2002
A Hard rain's gonna fall................................................................Tuesday 13th August 2002
Well, it's official. According to an article in the Guardian yesterday, the reason we have no summer is because of El Nino. What's more, we haven't seen the worst of it yet.

"The first six months of 2002 have been the northern hemisphere's warmest in recorded history, Britain has had one of the wettest summers ever, and the Pacific ocean is yet again building up to another season of climatic trouble making - the dreaded El Nino.
But if anyone thought that the weather was increasingly unpredictable and extreme, they may have seen nothing yet."

Lucid as ever, Slate explains how El Nino works in this article ;
"Every three to eight years, for some inexplicable reason, the trade winds that usually blow west from South America to Australia subside. As a result, the warm waters of the western Pacific--a pool the size of Canada--drift east toward South America."

The resulting weather is the sort of scenario that would have Noah heading for the nearest hill with an armful or two of marine plywood.

"Here is a partial list of events that El Niño can be blamed for (at least partially): the ongoing drought in Australia, New Zealand, Thailand, Malaysia, and Papua New Guinea; forest fires in Indonesia; famine in North Korea; the appearance of hurricanes along the Pacific coast of the United States; the disappearance of hurricanes along the Atlantic Coast of the United States; a mild winter in the Northeast, a harsh winter in the Southeast, the failure of the fish harvest in South America. El Niño seems to determine the corn production of Zimbabwe, the coffee production of Sumatra, and the cocoa production of the Ivory Coast."
Compared to that litany of suffering, complaining about the poor summer in Ireland seems a little crass. If a lack of strawberries and a shortage of turnips are the worst of the suffering, then we will have escaped lightly.
Across Europe , flooding has killed around 70 people so far, and tonight, the centre of Prague is under water.
According to Met Eireann's website, Ireland has been getting steadily wetter for the last 15 years, though it does not offer an explanation for this phenomonem.
Treasure Island...............................................................................Sunday 11th August 2002
These days, it's hard to spend more than half an hour watching or listening to an RTE programme without being reminded (by RTE) of how much value for money that, we the licence-paying public, are getting. The unspoken corollary is that we should be paying more. RTE are currently claiming that unless they get a hefty increase in the licence fee, they will not be able to fulfil their public service remit, and all sorts of beloved programmes will be scrapped to be replaced by American and British imports. Now, that doesn't sound like too much hardship to me, since I pay for cable access precisely for those programmes and so that I won't be subjected to non-stop RTE.

The latest RTE offering is Treasure Island, an adventure show that takes 12 contestants to a desert island, divides them into 2 teams that must complete a task every week. Each week, the team that wins the task chooses a person to be sent home – that person gets to eliminate someone from the losing team. All the while, cameras show the teams in action, and the various bitching and complaining of the team members.

Now, if RTE had taken 15 or 20 whinging self-obsessive gits to a distant island and just left them there, that would be a public service. Alas, we should be so lucky.

First of all, only in Ireland could a bunch of people volunteer for an adventure show set in Fiji and then decide (after a week or two) that they were homesick. Every week, there was a row over who didn't get picked to go home, somewhat negating the point of the game. One woman decided after a week or so that she missed her kids too much and wanted to go home [I would have thought most parents would have endured a gulag for a week to get a break from their teenage offspring].

Did she think Fiji was near Portlaoise ?

Secondly, the viewers at home have endured probably one or the worst winters, sorry, summers on record. So the prospect of watching a bunch of people cavorting on a tropical island, paid for by their licence fees, and not showing an ounce of gratitude was just a bit too much.

In the end, the last tow contestants had to find a buried chest containing 50,000 euro. A Cork farmer, probably the least annoying of all the contestants, won it (Corkmen would have a bit of practise digging up hidden stashes of cash (Communion money, Confirmation money…!!).
As usual, the programme tried to have a few baddies to maintain interest. Aoife, a teacher from Spiddal, was a good prospect, bitching about her team-mates and shafting them when she got a chance. If she's the same ray of sunshine in the classroom as she was on the island, God help the pupils. And then there was Jack, a bodybuilder from Carlow, who tried to smuggle food onto the island to maintain his physique. Naturally, he was busted on camera. The food consisted of a large bottle of Coca Cola, crisps and marshmallows. Whose body was he trying to build? Johnny Vegas ?
Thursday, August 08, 2002
Unbelievable ! An inch of rain has fallen yesterday in the West of Ireland. The weather forecasters should be warning people about sunburn – instead, they are giving flood warnings.

On Achill Island last week, it was claimed that the Virgin Mary was going to appear. RTE claimed that thousands of people were flocking to the Mayo island, though the TV pictures seem to put the crowd at a couple of hundred. It wouldn't be the first time that the Mother of God has visited Mayo – she is supposed to have appeared in the village of Knock in 1879. The site is marked today by a large basilica and some of the tackiest souvenir shops in Europe. It was visited in 1979 by Pope John Paul II.

There was speculation that the latest apparition would lead to a resurgence of the "Moving Statues" phenomenon of the Eighties, when hordes of people turned up at crossroads around the country to stare at religious statues. Some people saw them move, but most people (including anyone carrying a camera) did not. An account of this era can be found in Colm Toibin's book (Seeing is Believing) – a far less respectful, and funnier account of the religious foibles of the Irish can be found in Liam Fay's "Beyond Belief".

Knock also has an international airport , which is not bad for a village in the middle of a bog. The building of the airport was due primarily to the persistence of the local priest, Monsignor James Horan, who decided in 1980 that Mayo would prosper if only it had an international airport. He managed to get the government of the time (led by the inimitable Charles J. Haughey) to put up some cash and raised the rest via donations. A Government review of the airport is available here and a disgruntled traveller's review can be found here.

Incidentally, Achill island was the location of the holiday home of Charles Cunningham Boycott , who was a land agent in Co. Mayo during the 1870s. He managed to annoy the locals so much (mainly by trying to evict them all) that they ostracised him in 1879 – and thus introduced the word boycott into the English language. He left Ireland with a flea in his ear the following year, returning to England to cheer up the farmers of Suffolk with his sunny disposition.
Typically for an agent of the aristocracy, he picked the nicest spot in Achill for his home – in the hidden cove of Keem harbour. It is now a hotel.
Thursday, August 01, 2002
Interesting article in salon.com on Steve Earle that wonders why he, of all artists, is attracting opprobrium for his take on 9/11 and the aftermath. The article finishes by mentioning that he is vacationing in Europe. Nope – he's working (see article below 23/7)
Tuesday, July 30, 2002
The Galway Races started yesterday at Ballybrit racecourse, which means that every road leading into Galway will be reduced to a car-park by the end of the week. The torrential rain didn't help the punters too much, and will make things tough for the human competitors on Ladies Day (Thursday), when the winner of the best dressed person (i.e. a woman) will get a Brown Thomas voucher to buy even more silly hats.

On the last Sunday of July every year (i.e. last Sunday), thousands of people climb Croagh Patrick in Co. Mayo. Many do it as an act of pilgrimage and more do it for the enjoyment of a day out. The tradition began to commemorate St. Patrick, who was supposed to have spent 40 days and 40 nights on top of the mountain. This year, it rained heavily and the going was soft. Last year was warm and sunny, as this gallery shows.
Tuesday, July 23, 2002
The Galway Arts Festival is in full swing, which means the pubs will be fuller and the traffic will be crazier. For some, their only brush with culture will be the rough'n'tumble of SuperMacs in Eyre Square at 2 am. Others will actually be able to see some of the events. RattleBag, RTE Radio's arts programme have devoted a lot of airtime to the various events, which can be found in RTE's excellent on-line archive here, here and here .
I braved the monsoon conditions last night to see The Remembered City, an affectionate portrait of Chicago told in song, prose and verse by Steve Earle and Tony Fitzpatrick. Of the two, Steve probably won over the audience more with his wry reminisces of his life as a Number 1 artist (as Steve Earle and the Dukes – remember Copperhead road ?) and his full-blooded ballads. Actually, I would gladly have paid good money to listen to ninety minutes plus of "Steve Earle and my drug and booze fuelled hell". However, his tales from the road were meant to be cautionary, and he wasn't eager to glorify it. Tony's excerpts from his stories and poems were rooted in Chicago and in baseball and as Earle commented "Irish people know f**k-all about baseball". At times, his recital (accompanied by a sleazy keyboard soundtrack) was a little sub-Tom Waits. Earle played a few crowd pleasers, including Galway Girl, his contribution to Sharon Shannon's Diamond Mountain Sessions album. A pleasant if undemanding night - it seemed a bit strange to get a political lecture at the end of the gig– if you're going to slag off your president, best do it in the States where he can hear it.