Fishy business......................................................................... Sunday 29nd September 2002
A giant tuna was caught in Galway last week by an Irish angler 25 miles off Cleggan, Co. Galway. It weighed 287 pounds, and the Connacht Tribune reports that it was turned into 2000 steaks for sale to restaurants, fishmongers and hotels in Galway. The report adds that the tail of the 10 foot beastie was on display in a glass counter in the Galway Docks premises while its tail was kept in a wheelbarrow.
Perhaps Justice Fergus Flood could have sent it to Ray Burke - certainly, the reputation of the ex-Justice Minister now 'sleeps with the fishes'. The Flood Tribunal, charged with investigating corruption into planning decisions over the last 25 years or so, issued it's second interim report last week and it didn't pull any punches. The tribunal has done some trawling over the last few years, and it has netted a few big fish. The report makes it clear that it doesn't believe Ray Burke's account of why he received undeclared money from property developers (Burke said it was for the party - the tribunal thinks it was for 'services' rendered), and accuses PJ Mara, consigleri to Charles Haughey (who has another tribunal all to himself) of hindering the tribunal (Peej forgot that he had an Isle of Man off-shore account. As you do).
PJ's current job was co-ordinating Fianna Fail's campaign for a Yes vote in the Nice referendum - he had resigned by the end of the week. The campaign for a Yes vote has been suffering from the effects of Government unpopularity already, and this won't help matters. The media has begun to speculate that, if the Government fail to get a Yes verdict in the Nice referendum (again) there may be a putsch against Bertie Ahern. Even if the referendum is passed, the tribunals may implicate more Fianna Fail heavyweights, and it may become increasingly difficult for Bertie to insist that he didn't know what was going on. Property consultant Frank Dunlop was made an offer he couldn't refuse by Justice Flood at the tribunal last year when the initially evasive Dunlop was told to go home and reflect upon his testimony. The implication was clear - give up the names of politicians whose bank accounts Dunlop had lubricated, or spend some time in Mountjoy prison for obstructing the tribunal. Frank went home, probably didn't sleep too well on it, returned the next day and sang like a well-financed canary. The list of names that he provided has not been made public yet, but will be revealed shortly.
Alan Ruddock in the Sunday Independent doesn't pull any punches:
His [Bertie's] lack of judgement or his disdain for any moral standards outside the very singular standards of the Fianna Fail party created this crisis for his party. His decision to appoint Ray Burke as Minister for Foreign Affairs in 1997 and his decision to stand by his man on the day of his resignation were both so flawed as to be sufficient evidence of incompetence.
Already, a prospective successor, Brian Cowan, has made his obligatory denial. The Opposition have already called on Charlie McCreevy to resign (for allegedly misleading the country on the state of the economy) now, they want Bertie's head too. Now, there is more chance of the Pope resigning in response to criticism of the Catholic Church than Bertie resigning because of the wrongdoings of others in the party. No, if he goes, he will have to be pushed, though the leader of the Opposition, Fine Gael's Enda Kenny was reported to be spending Sunday attending the womens Ladies GAA Football Final in Croke Park. Not exactly massing one's troops at the border, is it?.
It has not been a great week for policiticians across the water either. Prince Charles was widely reported in all the British newspapers last week. He has, apparently, been bombarding ministers with letters complaining about, well, pretty much everything. His latest gripe, which was leaked to the papers, was about the rights of country people (the letter was leaked just after a huge protest march in London by various countryside groups). Whatever the merits of the country folks arguments (which is a mix of issues from the decline in farm incomes to the proposed ban on hunting with hounds), it won't be helped by Prince Charles' participation. His threat that, if hunting is banned, to leave the country and spend his life skiing in Switzerland, shows that his definition of hardship is probably unique. As one of the biggest landowners in the country, and heir to the throne, he is hardly an oppressed minority. In fact, if most counrty dwellers received the same level of subsidy and state support as the heir to the throne, they'd be marching to London to thank the government.
It was also revealed that a former prime minister, John Major had conducted a four year affair with Edwina Currie, a former minister who managed to help ruin the poultry industry in Britain during the Eighties by declaring that most British eggs were infected with salmonella.
As prime minister, Major launched a back-to-basics campaign that promoted 'decent family life' (i.e. another stick to beat single mothers, gays and anyone else the Tories didn't like). In the subsequent years, Major was forced to sack a number of Ministers who were outed by tabloids for 'playing away from home'. It goes without saying that had his own secret been revealed (his affair ended two years before he became PM), he would have been finished.
The newspapers are split between those criticising his hypocrisy (such as the Observer and Guardian) and the Telegraph who criticise Currie for revealing the secret to boost the profile of a forthcoming book. It's hard to feel sorry for someone who used his image of decency as a measure against which others were judged, and who now finds himself measured.
Mind you, the tradition in Britain is that a 'disgraced ' politician does the decent thing and resigns. Not much chance of that catching on here.
Locally, the Ballinasloe Horse Fair began on Saturday and continues throughout the week. For anyone buying or selling a horse, the Fair Green is the place to be. For anyone trying to drive from Dublin to Galway, it might be faster on horseback.
And finally... We managed to squeeze one more good weekend out of this Indian summer. The trouble-and-strife and myself walked along a near-deserted coastline in Galway on Saturday, the gentle breeze hardly disturbed the water but was enough to fill the sails of a Galway hooker offshore. We collected mussels which we later cooked in a chowder (courtesy of a Darina Allen recipe). Who could want to live anywhere but in such a beautiful place as the west of Ireland (when the weather is good).
As Queer as Folk.................................................................... Sunday 22nd September 2002
With all the talk of 'regime change' in world politics, it has somewhat overshadowed the leadership contest of the Irish Labour party. Pat Rabbitte, Roisin Shortall, Eamonn Gilmore and Brendan Howlin are the candidates and they are unitied in declaring that, if elected, they will revitalise the party so that it can become a true alternative to Fiannia Fail. It's a pity no journalist has asked any of them why, since the four of them are all part of the current Labour front bench, they have not been able to revitalize the party from their current position.
The campaign got off to an odd start last weekend when the Star newspaper headlined an interview with Howlin with "I am not gay". Now, I'm not aware that many people suspected that he was, but I doubt if he helped matters with the interview. After all, such a declaration is usually seen as a denial rather than a by-the-way piece of information. Howlin claimed that his addiction to politics has meant that he has not met 'Ms. Right'. No doubt Howlin consulted advisors before the interview, so maybe they thought that a statement declaring his heterosexuality was better PR than admitting that he was a politics geek that women found unattractive. Not much of an election slogan.
Another person who is definitely not gay is Daniel O'Donnell who broke hearts everywhere when it was announced that he would marry his long-term girlfriend, now that her annullment has come through. In the Roman Catholic Church, an annullment means that the wedding never happened in the eyes of the church (presumably, they send a couple of Jesuits around to the photographer to destroy the wedding photos. Or else).
RTE reported that a batchelor festival on the west coast was suffering a shortage of men, though no shortage of available women (no doubt the number have swollen even more now that Daniel is no longer available). A spokeman for the festival said that there was no cause for alarm yet. Being men, they usually left it to the last minute to make arrangements (lads, ever wonder why you are batchelors ?). Perhaps Brendan Howlin should book a place....?
Sods Law................................................................................Thurday 19th September 2002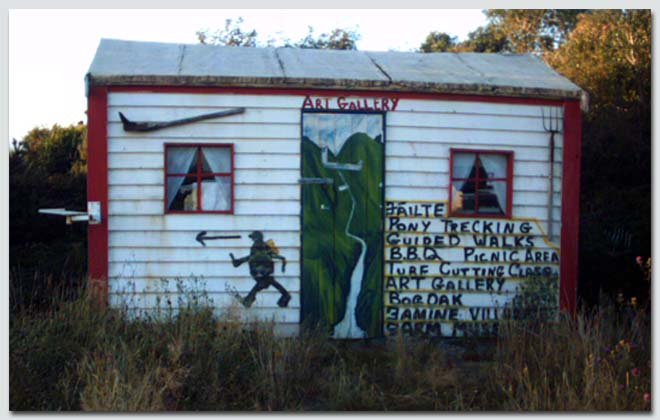 Now, I realize that our Celtic Moggie is coughing on a recession-shaped hairball at the moment, and I'd be the last person to begrudge someone the chance to make a few quid wherever possible, but....
Some enterprising individuals in Maam Cross have obviously decided to make the best of their surroundings and have devised an impressive list of activities inscribed on the "Art Gallery" (above) ;
pony 'trecking' (presumably led by an illiterate guide),
guided walks, the highlight being the regular dive-for-your-life leap into the ditch to avoid D-reg BMWs hurtling past in a hail of dust and gravel. There's nothing like high-speed loose chippings.....
and (the absolute highlight), a turf cutting class. Uh ? Why in the name of all that's good, holy and apostolic would anyone want to pay to cut turf. Now, I like to think that I had a happy childhood but it will be a cold day in hell before any of my many visits to the bog will be bathed in the rosy glow of nostalgia. It's one thing to watch someone else cutting turf as long as they don't ask you for help. And my experience of the bog is that Help! is a oft-made request.
In the interests of authenticity, I hope that the class experience the true highlights of a day at the bog, such as:-
horseflies and midges - as the day progresses, and you begin to work up a sweat, you present an opportunity for an al fresco meal for every malevolent insect within miles. While midges surround you in a cloud, slowly sapping your will to live, the horseflies sneak in and administer the coup de grace (lots of 'em). If a horsefly bite can make a cow or horse wince, think of the fun it will have with your much thinner hide (lawyers and Eamonn Dunphy excepted).
the rise of the machines - in the old days, turf was transported by donkey and cart. It was slow work, and the donkey couldn't carry much of a load. What the donkey could do was extricate itself if it sunk up to it's knees in the bog. It's a skill that most tractors don't possess. It is truly soul-destroying to spend a couple of back-breaking hours loading a trailer only for it to sink into the morass, wasting another hour unloading it and then spending a few more hours extracting the vehicles. Net distance travelled by turf; zero. I was part of a group that managed to sink a tractor, it's trailer and the rescue tractor. We nearly committed hari kiri before it was over. If visitors had to dig their own tour bus out a boghole before they were let go home, now that would give them something to talk about over dinner.
the black holes - bogs are essentially giant sponges, and the water table is usually just beneath the surface. In the old days, a farmer cultivated a 'bank' of turf by cutting a six-foot step into the surface and digging out the turf from the lower level. As the farmer dug out each 'sod' (a square clump about 10 inches long), the bottom of the bank would begin to fill with water. By the time the farmer had finished, the bank would be filled with water. Nowadays, one of the methods used is to use a digger to take a big scoop of turf which squirts the sods out of a machine (which works just like a sausage machine). Both the old and new method have one thing in common - they leave lots of deep, hidden pools of black stagnant water scattered across the bog, which occasionally claim lives. Every so often, archeologists find corpses preserved in bogs that are thousands of years old - proof that Irish people have been digging unguarded deathtraps for millenia.
If you have no idea of what a bog is, there is plenty of info. at Irish Peatland Conservation Council . Pictures of bogs can be found here (this site is part of Cavannet - mission: to link Cavan to the world. Is the world ready?). Bord Na Mona is the state-owned company that digs up..oops..I mean 'manages' most of Ireland bogland.
The mush of vegetation and water that makes up a bog would eventually turn to rock over time. It would also produce oil and gas. At least, that is the commonly believed theory. The Economist magazine carried an article that describes an alternative;
In 1951, however, a group of Soviet scientists led by Nikolai Kudryavtsev claimed that this theory of oil production was fiction. They claimed that hydrocarbons, the principal molecular constituent of oil, are generated deep within the from inorganic materials.
The article also quotes an American scientist, J. F. Kenney, who is is trying to prove the Russian theory. He says that it is nonsese to believe that oil derives from' squashed fish and cabbages'. and describes Kenney's attempts to test the theory under laboratory conditions.
Arts and Craftiness...................................................................Sunday 15th September 2002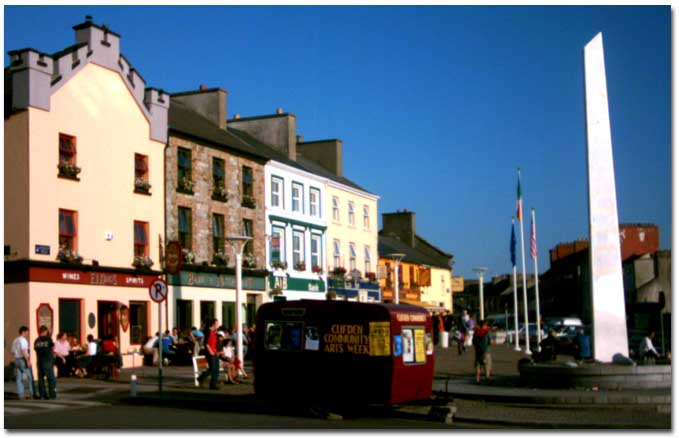 The Arts Festival in Clifden opens this week (18th) and if there is even half the sunshine that the west got this weekend, it should be good craic. For those of you into book-learnin' n' stuff, Seamus Heaney, Maeve Binchey and Paul Durcan will be among the 'acts'. It will be opened officially by John O'Donaghue, Minister for Arts, Sports, Tourism and All-Around Good Cheer. It must be quite a novelty for John welcoming visitors from other countries to Ireland, since he seemed to spend a lot of his time in his last job (as Minister for Justice) trying to send them home. If John takes some time to wander around the town during the festival, he might see that the 'foreigners' furiously firing pints over the bar and slapping out grub to the festival-goers have their uses.....
Finally, an act of violence that can't be blamed on Roy Keane -Sunday 8th September 2002
The Clarinbridge Oyster Festival takes place next week, and a large crowd is expected to attend one of the last festivals in Galway of the so-called summer, and yet another excuse to slurp pints of Guiness under the guise of needing something to wash the oysters down.
However, the streets were thronged with a lively crowd on Friday night when a row at a wedding evolved into a street brawl with up to a hundred men thumping the tar out of each other.Gardai from Athenry, Gort, Galway and Loughrea were called to help quell the riot, which resulted in two arrests, three hospitalizations and plenty of collateral damage to pubs and cars in Clarinbridge.
The wedding, and the ensuing donnybrook, was between two Traveller families. It occurred a few weeks aftera decision by publicans in Westport have vowed not to admit Travellers into their pubs following a number of alleged assaults and disturbances in the town (ironically, the incidents happened after the Croagh Patrick religious pilgrimage). As the Irish Independent described the situation, "VFI chief executive Tadg O'Sullivan said that if something is not done by the Taoiseach to ease the "violence" members have been subjected to then a ban will "have to be put in place regardless of the economic fall out".
Minister Willie O Dea will no doubt be called in yet again to pour oil on some very troubled waters, as he has done on previous occasions. Being from Limerick will probably come in handy in that regard.