Better by design............................................................................. Tuesday 31st December 2002
There was a discussion on Photo.net recently on the extent of wildlife in Ireland that could be photographed. True, Ireland does not have large dangerous beasts roaming wild any more (unless you count lads from Tuam!) but there is still a great variety of both flora and fauna. And you'll be pushed to find a better collection of Irish wildlife photographs than Mike Brown's book Ireland's Wildlife, A Photographic essay, which was one of my better Xmas pressies.

The photos are sumptuous, and also includes anecdotes on how the photographs were taken. There is a small selection of the photos on Mike Brown's website but, to be honest, the web versions don't do them justice.
The BBC carry a survey of top sites accessed in the UK over the last year - Google, Amazon and the BBC itself were among the most popular.There was also a product review site listed, called Dooyoo.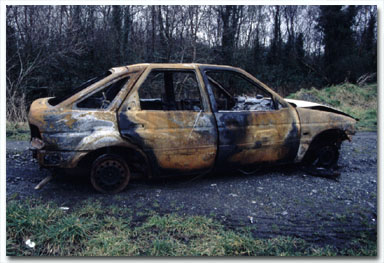 I came across a similar site for cars called Peach or Lemon, which consists of reviews of cars by their (sometimes long-suffering) owners. When I looked up the category for my own jalopy, I found a few familiar complaints, and a bucketload more that I can look forward to. Doh!
Better by design............................................................................. Monday 30th December 2002
An Post have apologised for the non-delivery of about 1 million pieces of mail (mainly Christmas cards) and promised that all outstanding mail would be delivered by the end of the week. Personally, I couldn't be happier since I only got around to posting my cards on Christmas Eve, and now I have an excuse.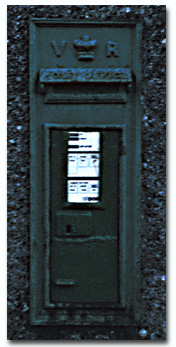 An Post have blamed their newly-acquired sorting equipment that apparently has difficulty sorting mail in coloured envelopes or non-regular sizes (just the thing for sorting Christmas cards, then). I wonder what group of design geniuses developed that machine?
It reminds me of the story about a farmer that wants to improve the milk yield of his cows. He goes to the local university and asks a psychologist, a geologist and a physicist for advice. The psychologist tells the farmer to play soft music in the milking parlour and to speak softly to the cows. "This will makes the cows feel happier and they will produce more milk".The farmer takes some notes, thanks the psychologist and goes to the office of the geologist. The geologist explains to the farmer how the soil composition affects the quality and quantity of the grass in the fields, and gives him a stack of books on how to improve the grass growth. "More grass, and better grass, will mean more milk". Weighed down by advice and books, the farmer finally goes to the physicist and explains that he wants his cows to give more milk, and mentions the advice that he had already received. The physicist furrows his brow, thinks for a few minutes before getting up to the blackboard in his office. "Assume a spherical cow..."
The Western People reports that the Mayor of Ballina has lost the confidence of at least one town councillor because of his actions over what is known as "the Sophie story" in Ballina.
Cllr Padraig Moore said the Mayor should have let the matter lie following the [initial] article in the Western People. "I have no confidence in him for any future negotiations. I am sure the matter will be discussed further at the next Council meeting," he said.
The mayor had originally objected to a picture of Sophie Dahl in the window of Wards, a local pharmacy.
The poster was a provocative photograph of supermodel Sophie Dahl lying naked on a draped pedestal. In a light hearted response to the Mayor's complaints, the proprietor of Ward's, Mr Padraig Ward, put a strategically placed card over the poster which read "By order of the Mayor' over the poster. The national print media and national airwaves picked up on the story immediately and follow-up stories were accompanied by photographs of the Mayor in bed with the poster.
Of course, the national, largely Dublin-based media just love these stories - another excuse to patronise the culchies. Mind you, the Sunday papers were pretty light on news yesterday - most of the stories were reviews of the year (and fairly uninsightful at that).
The fluffiest piece of 'journalism' I found yesterday was a piece entitled "Literary Lady" in the Sunday Independent. The piece, which consisted of a photo plus caption, described how John McGahern had been awarded novel of the year by the Sunday Idependent and Hughes & Hughes booksellers (for "That They May Face the Rising Sun"). The photo was of Dr. Robin O'Reilly who was pictured, not with McGahern, but at a bash for a hairdressing salon! Did I mention that Dr. Robin is the daughter-in-law of the Independent's owner (Sir Anthony) and was recently 'elected' Party Person of the Year 2002, described in a pile of breathless gush here. Pulitzer Prize, here we come!
Fin de siècle.......................................................................... Monday 23rd December 2002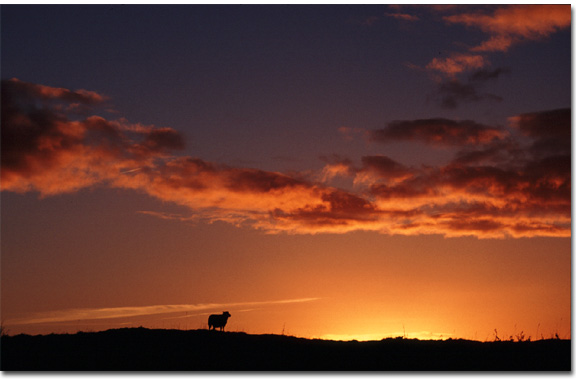 The European Union have called for the removal of 150,000 sheep from the west of Ireland (on environmental grounds), which will mean the nightlife in Mayo should quieten considerably. Seriously, there isn't a mountain in the west that hasn't been picked bare by the overgrazing of sheep, whose presence is wholly due to EU subsidy in the first place. It might make things easier for tourists cycling around the hills in Connacht - it's bad enough peddling against the wind without worrying if a dozy bundle of wool will wander out in front of you.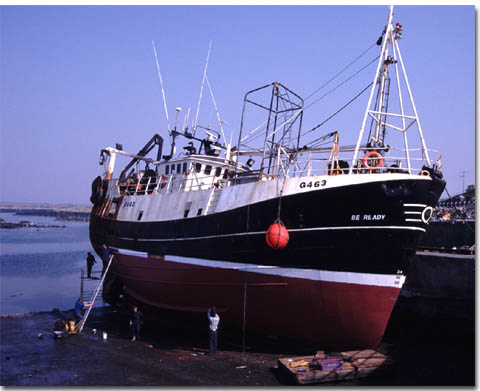 Fishermen are feeling like an endangered species too. It looks like there will be far more restrictions on fishermen in 2003 (i.e the number of days they can spend at sea), and they may well face increased competition from the huge Spanish fleet in the new year within the previously restricted area known as the "Irish box".
And finally, a happy Christmas to all of you......
Fowl Play .......................................................................... Thursday 19th December 2002
Both ElectricNews and the Mayo News reports the finding of the Western Development Commission that the lack of broadband in the West of Ireland is a serious problem for industry. What broadband exists is far too scarce and expensive, compared to other European countries.
In making its argument for cheap broadband, the report gives the example of ANU Internet Technologies, which moved to Galway City from Westport in County Mayo, when it realised that it would allow it to cut its communications bill from EUR33,000 to EUR22,000, while doubling its bandwidth. Stephan Wik, the managing director of ANU, said that a colleague in Germany pays just EUR16 a month for access to DSL, whereas Wik would have to pay EUR90 per month for the same service.
These findings come as no surprise to anyone who actually lives in the West of Ireland. If the government had a little more backbone, there might actually be some competition for internet, cable TV, etc. Even Irish domain names are a rip off!. Instead, we get a lot of crap about being "closer to Boston than Berlin" in terms of business attitude.
Government hogwash such as this ignores the fact that the Irish technology boom is based mostly on foreign technology companies taking advantage of an educated workforce and Ireland's low corporate tax rates - two advantages that are no longer peculiar to Ireland. The indigenous hi-tech industries (typically much smaller in scale and more sensitive to the effect of operational costs) are struggling against archaic infrastructure.
I have a friend who lives in another European country where they have already tackled the communication infrastructure problem. He leaves his computer on all day streaming RTE's live radio feed over a cheap broadband connection - no different than using a radio - just as it should be.
I've been doing some cooking recently. While stuck in Sweden, I decided to make full use of the kitchenette in my apartment by cooking a duck. Ye gods! It was pricey. It cost 10 euro a kilo, nearly 25 euro in total. For that sort of money, I'd expect to get a duck with a career in Disney. Throw in the cost of the other ingredients (including a half-bottle of port and a bottle of Beaujolais) and it might have been cheaper just to go to a good restaurant. To put it in perspective, the local Supervalue has frozen 2.5 kilo ducks for under a tenner.
However, the results were rather good. I used the liver and kidneys to make the base of a good gravy (along with the juices) and scored the skin to ensure fat-free and deliciously crispy skin (a tip I got from Rick Stein's excellent cookery series, Food Heroes). I also imbued my apartment, and every single item of clothing within, with the scent of eau de campsite which attracted the odd glance from fellow passengers on thebus the next day. It also took me a while to shut the smoke alarm off (try a few hours).
Undeterred, I bought a pheasant last weekend at the foodmarket in Temple Bar in Dublin. There are plenty of recipes on the web, but I went for a simple one. I stuffed the bird with a mixture of onion and apple (and a sprig of thyme) and but in a baking tin. I rubbed some brandy into the skin and covered it with maple-cured rashers (when you take the bird out after 40 minutes for a look, they make a very tasty snack). After an hour or so, it was done. I made a sauce from the stuffing, juices, cream and cranberry sauce (next time, I will use a mixture of apple, orange and sultanas in the stuffing). Delicious, slightly gamey taste and not a pick left on the carcass. For 6 euro, you've just got to try it.
The kiss of the Blarney....................................................... Wednesday 18th December 2002
The N17 will never be the same again ! Seamus Brennan opened 16km of new road (officially termed the Knock-Claremorris bypass) yesterday - perhaps the Sawdoctors will have to add another verse to their song.
An article in the Wall Street Journal (via P45) about Irish accents in movies- it's written by a Corkman (do they ever stop complaining?) - and is pretty negative about the efforts of Hollywood's finest.
Mickey Rourke scorches an early trail as IRA bomber Martin Fallon in "A Prayer for the Dying," a role he waived his salary to play and then disowned upon beholding the finished silliness. This film does for Ireland what "Tarzan" did for Uganda.

Richard Gere pushes the unpleasantness further when he shows up as IRA gunman Declan Mulqueen in "The Jackal," a film so profoundly awful as to obscure the true horror of his performance. Proving that age and wisdom part company where Irish roles are concerned, Mr. Gere intones: "An entire government wants me dead, yet here I am." Who says they've stopped trying?
No quibble there. However, he is not impressed by Mr. Jennifer Aniston either. After slating Brad Pitt's accent in Devil's Own, he contiues
Mr. Pitt takes a second bite of the forbidden fruit with his version of the rakish Celtic criminal in "Snatch." As Mickey O'Neil, Mr. Pitt reveals the wondrous scope of his acting range, moving from his earlier turn as a pugilistic Irish lawbreaker whose accent is unrecognizable to a pugilistic Irish lawbreaker whose speech is wholly unintelligible.
That was the whole point, mate (sigh). Pitt's cameo in Snatch was the best thing in the movie, and his faux traveller accent was a lot better than some of the Irish cast in RTE's Glenroe.
The article ignores the obvious example,The Quiet Man as well as the worst Irish-accented movie , Widow's Peak, which starred Mia Farrow. For maximum begorrah and shillelagh value, it's hard to beat Darby O'Gill and the Little People - starring that all-singing and all-dancing Celtic superstar (unfortunately) - Sean Connery.
The BBC have run a newsmaker poll during the year (i.e. the names that have dominated the news). I wonder who would dominate an Irish poll - two frontrunners would be Roy Keane (another Corkman - enough said) and Frank Dunlop, who clearly believes that confession is good for the soul.
Culture Vultures....................................................... Monday 16th December 2002
Culture indeed. Jordan, erstwhile "page Three stunna" visited Ballinasloe over the weekend to open a nightclub - normally she's falling out of them, somewhat the worst for wear (if indeed she is wearing anything at all).
Anyone who has driven through Ballinasloe when they are bulldozing the landfill site at Poolboy at the edge of town will know how the smell permeates the whole town. It puts this debate on slashdot into perspective (they are complaining about the smell of a coffee-roasting plant). Incidently, just typing "Poolboy dump" into Google returns some pretty unsavoury links...
It's time for some recycling of my own - here is a music & movie quiz that was put together last year and has sat on my site for the last year. It's all audio clips (so headphones may be required) and some of the files are pretty big (so your employers' bandwidth may be required). Hey...it's the week before Christmas..time to relax.
Bits and pieces........................... Friday 13th December 2002
It's Friday 13th and it's freezing here (-7 this morning). I can't wait to get back to terra firma (and terra warmer) tomorrow.

Harnessing the power of the internet, I ordered some Goon Show CDs online as a Christmas present for my Dad. Unfortunately, they have them all in stock (so he won't get all of them for Xmas). Worst still, RTE Radio 1 are transmitting the Goon Shows on a Saturday morning at 11, meaning he'll probably have heard the shows before Xmas anyway. Aaagh! (though kudos for RTE for transmitting them).

Came across this attack on the integrity of Mayo men - it's an old one ......And while we're at it, Bertie doesn't fare too well here.....


Välkommen ombord........................... Wednesday 11th December 2002
There's an ode to Google (the search engine) on MSNBC.com, while the Register carries news of two new Google services.

The Nobel prize dinner was on last night in City Hall in Stockholm, and as usual, Swedish TV treated the whole occasion with due reverence (The Peace Prize is awarded in Oslo - Jimmy Carter got it this year) . I used to live beside City Hall and there is always a buzz in the city when the ceremony takes place.

The ceremony itself is a bit like a wedding where the fringe guests (i.e. the prizewinners) get to make all the speechs. The centre of attention (for the TV cameras) is the Swedish Royal family and the great and the good of Sweden. Scattered among them are the reason for the whole thing - the prize winners and their families. After the dinner, the tables are cleared and the dancing begins. The people who work as waiters for the night are all volunteers (student's etc.) and it's a big deal to get the gig.

The cameras could not get enough of princess Madeleine (the youngest Royal) who sported a deep tan, a wining smile and quite a low-cut dress, and who is, frankly a babe. (This morning's Metro newspaper managed to take a photo of her while her arm was strategically obscuring the royal cleavage. (such loyalty). The absence of princess Victoria, the heir to the throne was also noted (primogeniture does not hold sway in the Swedish royal family).
The Swedes have a fairly level-headed view of their royal family, not least because the current blood line can be traced back to one of Napoleon's generals, who showed up in Stockholm and became king (the previous Nordic line had died out).

It's five below zero here in Gothenburg and I'll be glad to get back to the relative warmth of the Irish west. There is a Edvard Munch exhibition on here that I visited last w/end (in the Göteborgs Konstmuseum). The museum has a good selection of permanent exhibits :- the sculpture room has some Henry Moore works and plenty of Carl Milles ( who also made the Neptune sculpture outside the museum).
There's also some Monets and a room of Picassos - the Rembrandt was on loan to a musem in Kyoto (dang!).

The Munch exhibition was very comprehensive (though I can't say I knew anything about Munch apart from his famous work "The Scream"). He wasn't the happiest person in the world - his mother and sister died of TB when he was young - and he outlived his brother and father by a considerable amount. To add insult to injury, his retirement house in Norway was bombed during WWII a year before he died.

His bleak outlook on life is reflected in his work. Titles such as The Sick Child, Death in the Sickroom, The Dead Mother and her Child (Melancholy) and of course, The Scream don't really indicate someone with a sunny disposition. His work became more cheerful as he got older (he even started using bright colours!) though he still sneaked in the occasional skeletal figure in the background.

The highlight of the visit for me was a work by Joachim Cossan. It consists of a small stuffed fox with a paint roller strapped to it's head. The head is motorised so that it seems like the fox is painting over the word "fox" on the board in front of it. It's called Erasing Fox (geddit?) and if it was set to music, (say Jingle Bells) it would make the ideal Xmas present. It would certainly beat the plague of jiving Santas or singing billy bass that usually clutter up the shops at this time. I want one.

And finally....an article from a US news site by a journalist couple about pubs in Ireland and the UK, which is unintentionally funny. Among the nuggets of information is

At Irish pubs, both beer and Irish whiskey are popular. Excise taxes account for 78 percent of the price of a bottle of spirits in Ireland, making Irish whisky more expensive in Ireland than anyplace else in the world.

They should try coming to Sweden! They also add that

a recent law [in the UK] requires that the contents of a "pint" served in a pub must now be 95 percent full - instead of the previous 90 percent requirement.

Most tipplers in Ireland find that an earful of abuse aimed at the barman usually achieves the same effect!


Thank you for calling........................... Sunday 8th December 2002
Traditionally, today is the day that country folk travel up to Dublin to do their shopping. It's nice to think that the capital gets a bit more civilised and smarter for at least one day of the year.

There was a bit of a fuss last week when it was reported that a department within Compaq's site in Galway was producing software that could be used in the nuclear weapons industry.
Michael Greene, head of the Department of Enterprise's military export control system said the revelations raise serious questions. "We have asked them formally to clarify about the goods going outside the EU. If the company was aware they were destined for use in weapons of mass destruction, then they had a duty to inform us and we would have decided whether we felt a licence was required," he said.

The government's only sanction would be to withdraw grant aid to the company (of which it has received 1 million quid so far). People might be surprised at the level of grant aid that well-heeled high tech companies receive in Ireland (It's not just the farmers that get grants, you know).

As part of the campaign against military refueling , a busload of protesters are travelling from Galway down to Shannon - and all the time, the nuclear arms race is taking place right at home.

Eircom story I : almost everyone with Email has received one of those Nigerian bank scam Emails (you know, there's a pile of money stuck in a Nigerian bank, and all that's needed to get it out is a foreigner willing to keep it in their account. And oh yes, you may have to put some money up front...). Anyway, I receive one from an Eircom Email account recently, which was a bit unusual. I sent an Email to their complaints id. What was the result ? Not even an automated response as an acknowledgement. Since I 'kill file' every junk email that I receive, I don't know if they actually bothered to do anything.

Eircom story II :Last weekend, my folk's phone stopped working. My mother contacted Eircom - the lady on the helpline told her that she had tested the line, it was ok and she would send out a new phone. Goodbye.
Now, the 'test' that the Eircom helpline carries out doesn't do anything except determine if the telephone exchange nearest your house has burned down. Sure enough, on Saturday, we discovered the phone line dangling from one of the poles - it had probably been severed by a falling tree branch.So my parents made another call to the helpline.
Fair enough, the repair crew arrived promptly during the weekto fix it - the same day that the new (and completely superfluous) phone arrived.


Ill Winds........................................... Monday 2nd December 2002
I managed to make it home to the Auld Sod for the weekend, and spent it on the family farm. Alas, since my last vist, one of the old ash trees had been felled, as it had begun to rot. A quick count of the rings (followed by a few recounts) revealed 140-160. Since the remaining stump is about 6 foot from the roots, I guess the tree was about 200 years old. Imagine, it was a seedling as the Act of Union was passed (which lead to the abolition of the Irish parliament, and the creation of the United Kingdom and the Union Jack flag) and the French revolution was in full swing (of the guillotine, mainly).

Incidently, the GAA are forced to import ash to make hurleys since there is not enough native ash. Why don't they plant their own forests?

The homeplace of Michael Cusack, founder of the GAA , is in Co. Clare. Ther's not much to see - just a restored cottage which is down a boreen. A row of 32 ash trees has been planted alongside the lane, with a county name at the base of each tree. Funnily enough, the trees for Kilkenny, Cork and Tipperary are big, healthy specimens, while the trees representing some of the lesser hurling counties (such as Meath) are barely alive. Coincidence, or...?

The Irish Independent carries the story of the rescue of three canoeists stranded on Lough Corrib overnight. Am I the only person wondering what they were doing out on the lake in the first place ?

The Galway Advertiser reports the result of an Eircom phoneWatch survey - choking back the tears, a spokeman for the burglar alarm company glumly noted that burglaries is down by 37% in Galway, though he did brighten a little at the fact that burglaries are up nationally by 2.3 %.

The Observer had an interview with Louis Walsh (the Alex Ferguson of pop music) on Sunday.
The direction of pop music has always been shaped by chance meetings: Paul McCartney swapping chords with John Lennon at a school fête; Paul Simon hearing Art Garfunkel singing, eyes heavenward, in morning assembly; David Bowie locking himself in a bedroom with Lou Reed. A footnote to this history of cultural fusion, you could say, occurred one afternoon on a local bus in Co Mayo, Ireland, in 1975. It was there that Louis Walsh found himself sitting next to Johnny Logan.

Okay - don't lose the run of yourselves, lads. Walsh is described as being from Ireland's original hick town - Kiltimagh, Co. Mayo (their words, mind).

He is equally frank about the abilities of his groups; he describes Boyzone as 'Ronan, Stephen and three Ringo Starrs', and talks about other performers as 'puppets' in relation to their producers and managers.

Three Ringos !?! Louis, you're far too modest. As manager of Boyzone, Westlife and Samantha Mumba, I'd say it's closer to a dozen Ringos, with the odd Pete Best thrown in for good measure.

A Savannah, Georgia news site tells the story of a group of US Marines who set off from the base in Georgia for Kuwait and got stranded at Shannon airport. They ended up staying at the Clare Inn, and got a tour of Dromoland Castle for good measure.

Army regulations forbid alcohol on deployments so it could be described as torture to sit in the hotel's Poachers Pub with a Guinness tap just a few feet away.

"I've never sat this close to a tap for this long of a time and not had a pint," said Maj. Michael Birmingham, a Fort Stewart public affairs officer.

Discipline indeed. I wonder if a truckload of FCA lads got stranded in a pub on the way back to Finner Camp, would we see such resistance ?