December 31, 2003
December 28, 2003
December 24, 2003
December 21, 2003
Dumped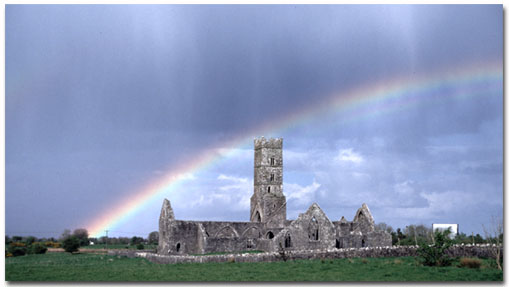 Where else would you put a landfill site that will take half of Connacht's trash ? An isolated, uninhabited area with nothing of architectural significance or a small agricultural community supplying a dairy, and close to the site of a magnificent 15th century Franciscan friary?
The community of Kilconnell-New Inn found out this month that they have been chosen for not one but two new dumps. One will be the county dump, selected by the Galway county manager, and the other shall be a private enterprise, run by Greenstar. Three areas were in the running for this dubious honour - it's particularly galling for the New Inn folk since they already had a landfill dump in their village for 18 years up to some years ago.
Needless to say, the locals are gloomy, since their area is probably going to become the holiday home of every rat in Connacht. The only people happy with the news are those who will sell their land to make way for the dump. Two of the anti-dump campaigners have been served papers by Greenstar - who claim they have been defamed. One of the campaigners also had a hoax bomb left outside his front door with a note, signed "PRO DUMP" and warning that they other guy would be next. Now whose cause could such a deed possibly serve ? Who indeed?
December 15, 2003
December 12, 2003
December 11, 2003
December 08, 2003
December 07, 2003
December 03, 2003
December 02, 2003